Secure design and guarantee
Periodical inspections will be carried out when the property has been handed off after 6 months, 1 year, and 2 years. A specialist staff will visit on a day of your choosing and perform the inspection after you received the latter which explain the procedure,We will also provide a 10 year long-term guarantee and 5 year termite guarantee after the property has been handed off.
Inspection and guarantee of detached houses
Cleared with the Highest Housing Benchmark Standards
The housing performance indication system is a system in which a third party entity designated by the Ministry of Land, Infrastructure, Transport and Tourism objectively evaluates the degree of housing safety and security based on determined indices. Even those without specialist knowledge will be able to understand the performance of their property. In other words, it is similar to a 'Housing Certificate of Authenticity'. The properties of Hajime Construction obtain the highest grade in five items in the four fields required in this housing performance indication report.*
*This applies to two-story buildings, three-story and ordered houses are exempt.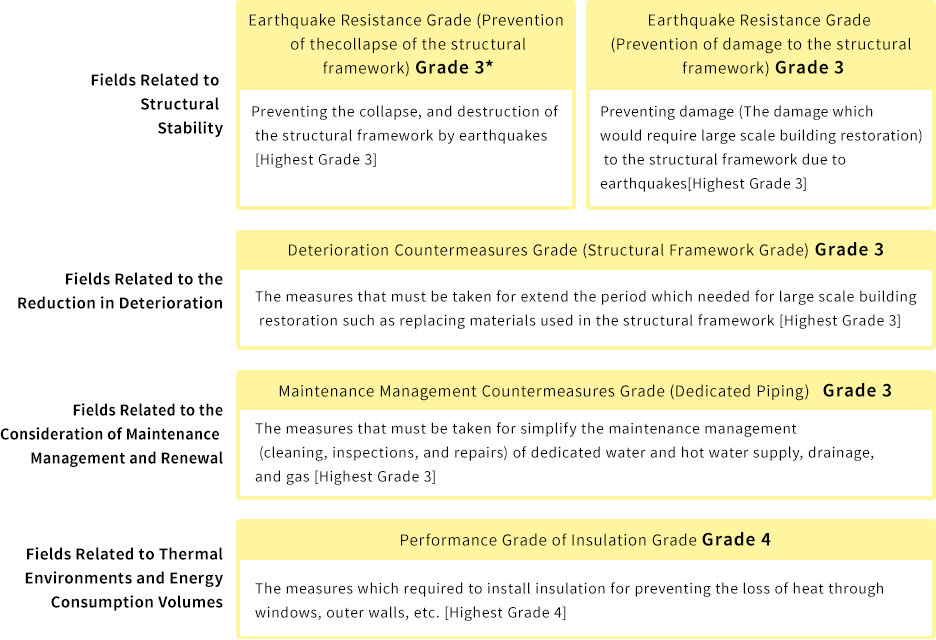 Periodic Inspection Services (-2 years after )
In order for our customers to be able to enjoy a safe, secure, and pleasant stay with their newly purchased house, Hajime Construction will conduct three periodic inspections after the building has been handed off, 6 months after, 1 year after, and 2 years after. For the inspection an inspection specialist technician will visit the building and will check the inspection details of dozens of items in accordance with a checklist.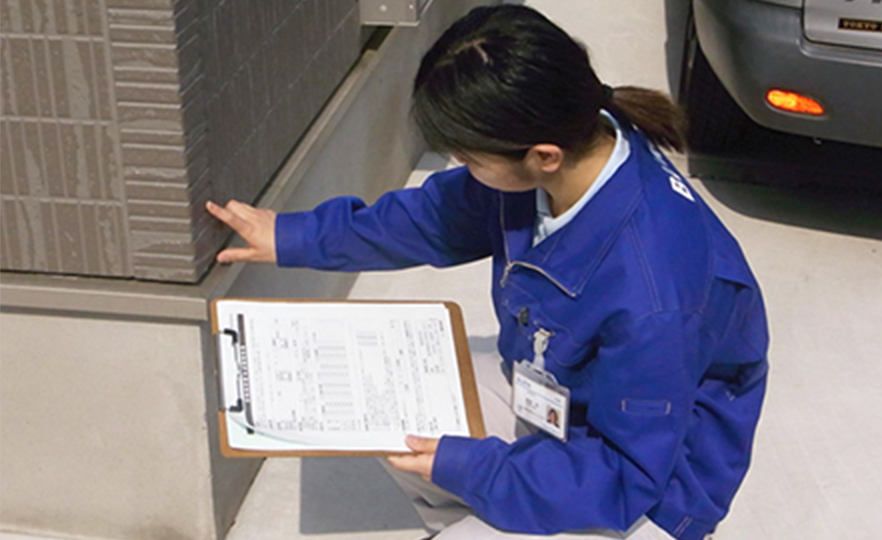 Free Diagnosis (5 years after – 35 years after) and
Long-term Guarantee
We can provide extensions to the basic 10 year guarantee, after which we can extend it every 5 years up to a maximum of 35 years.

In order for our customers to live in their newly purchased building with peace of mind, Hajime Construction provides an independent and warm guarantee system. The system used states that after the long-term guarantee (10 year guarantee) period determined in the after-service statement has passed, every 5 years it will be set out again and, depending on the parts,the guarantee may be extended up to a maximum of 35 years after the property has been handed off. In addition, if the newly built and purchased property is transferred to a third-party, or if it is succeeded by the purchaser's spouse, child, or grandchild, then the remaining period of the purchaser's guarantee period will be succeeded in accordance with carrying out the fixed procedures. There are not many manufacturers who offer this kind of service.
Free building diagnosis and compensation repairs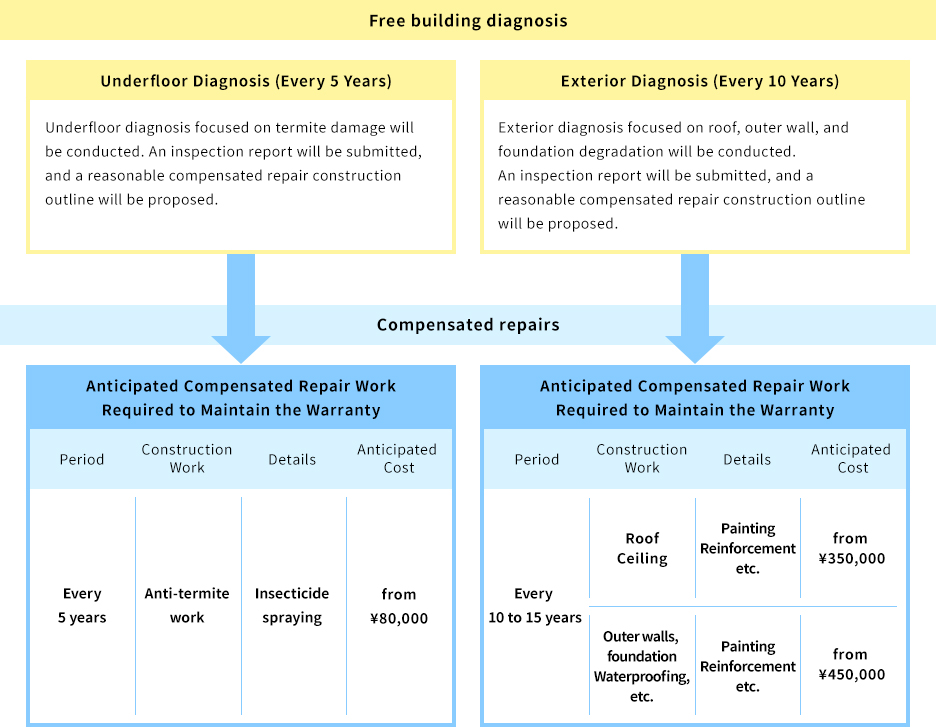 Condominium Inspections and Guarantee
Quality inspection + housing performance evaluation by a third-party Add an independent third-party to make checks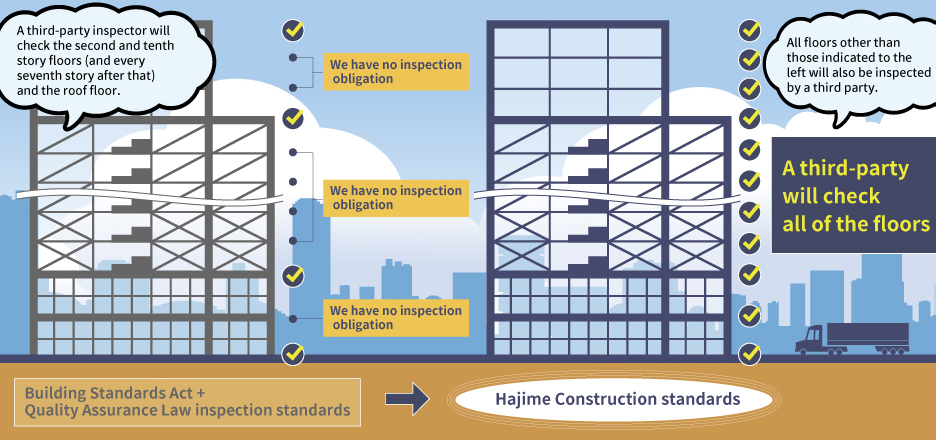 A third-party that has no direct relation to the design firm or construction company will check 28 items in 9 fields to see if the building is safe and can be pleasantly lived in.
In addition, there are two types of housing performance evaluations, the 'Design housing performance evaluation' and the 'Construction housing performance evaluation'.
Rebar and concrete layout inspections carried out by the third-party are usually only conducted on specific floors designated by the Building Standards Act and laws related to the promotion of a building's quality assurance (Quality Assurance Law).
Floors which have no obligation to be inspected by the third-party will be inspected by a building contractor or manager, and a quality inspection will be carried out by the Bureau Veritas Japan company.
A third-party quality inspection is conducted on any floor to check the 'structural slits', which are made to stop pillars and beams from breaking in the event of an earthquake, in a similar way to a 'tensile strength inspection', which prevents tiles from peeling, after which an inspection results report is issued after the inspection has finished.
The standard for Hajime Construction is to make sure our customers can live with peace of mind and security which we achieve by using our own strict quality standards which are greatly superior to the inspection standards of the 'Building Standards Act' + 'Quality Assurance Law' determined by the country and is unrivaled by other companies.
10 Year Guarantee for Housing Equipment and Facilities
If any trouble occurs with the housing equipment and facilities then general support will be offered in accordance with the manufacturers guarantee, however in many cases this is limited to just one to two years.
In the condominiums of Presis, even if the manufacturer's guarantee for the gas hot-water heaters, toilets, baths, hot-water heaters, bathroom vanity, etc, has expired, we will continue to give you the long-term guarantee of 10 years using our independent service.
In the unlikely event that trouble does occur, then a business trip to the manufacturer can be arranged with a single call to our call center.
An independent 10 year guarantee from Presis, which takes a long-term view at comfortable living.
We deliver a 'safe' and 'secure' living for our customers.